About The Montessori at Trinity Oaks
The Montessori at Trinity Oaks was founded in October 2014 by Pratik and Anisha Patel with the mission to open young minds, instill curiosity, and inspire passion for lifelong learning by providing an authentic Montessori experience for children and their parents. With experienced lead teachers who have earned Montessori teaching credentials and a passionate and dedicated support staff, The Montessori at Trinity Oaks provides a joyous, secure learning environment for young children from 2 to 6 years old.
The Montessori at Trinity Oaks is a Preschool that offers an academic based childcare program in the Trinity, New Port Richey and Pasco County areas.
The school provides a specialized curriculum based on the Montessori Method for Pre-Primary and Kindergarten age children (3 to 6 years). The School also offers a Young Children's Program (2 to 3 years). The Montessori at Trinity Oaks has been architecturally designed with the children's needs in mind and provides a secure environment that allows the personal growth of each child.
Consistent with our vision and mission, we want to help each child reach his or her full potential in all areas of life. Our school is dedicated to the Montessori philosophy and method of education. A child attending The Montessori at Trinity Oaks will be exposed to a method which facilitates the growth of inner discipline and complex reasoning skills.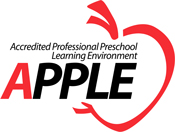 The Montessori at Trinity Oaks is a Accredited Professional Preschool Learning Environment (APPLE).